---
Tipton had one of the most concentrated areas of heavy industry in the Black Country. In the nineteenth and twentieth centuries, the sights and sounds of industry were everywhere, along with brightly lit orange and red skies at night.
Some of Tipton's Many Industries
H. P. Parkes, Chains and Anchors
In about 1820 Henry Pershouse Parkes, from Dudley, established the Tipton Green Chain and Anchor Works. The firm's products included cables, chains, anchors and all kinds of forgings. In 1851 some tests were carried out on the company's chains to demonstrate the tensile strength and fibrous toughness of the iron used in their production. The iron used on this occasion was supplied by Summer Hill Iron Works. Some of the chains were exhibited at the Great Exhibition in 1851 and also at the 1855 French Exhibition in Paris, where they won a prize medal.
Henry Pershouse Parkes died in 1867 and appears to have been succeeded by his son, who had the same name. In 1867 the firm produced the largest anchor in the world, at that time. It was built for Brunel's S. S. Great Eastern to the patented design of Joseph Beterley, of Liverpool. The anchor, which weighed eight tons was twenty six and a half feet long and cast from iron supplied by Bloomfield Iron Works. It was tested at Tipton Proving House and found to be able to stand a strain of 100 tons.
Henry Pershouse Parkes junior went into partnership with Alexander Stewart Ross to form Henry P. Parkes and Ross. The partnership came to an end in 1885 and the company became Henry P. Parkes & Company.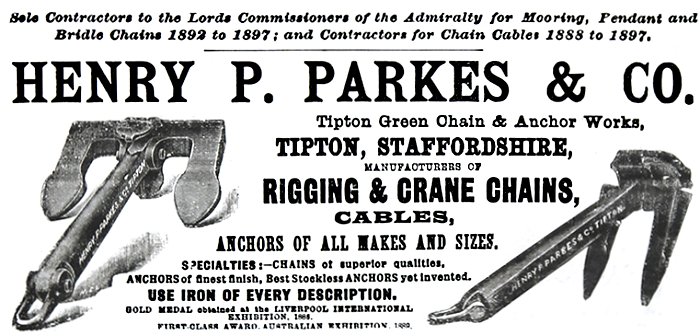 In 1904 the business was sold and became H. P. Parkes and Company, under the control of N. Hingley & Sons Limited, of Netherton. In 1944 the company's name was changed to Richard Sykes and Son Limited, then in 1947 it became H. P. Parkes & Company Limited. The business went into liquidation in 1966.
Tipton Proving House
The Proving House was owned by Lloyd's Public Proving House Company, Limited, with machines that were licensed by the Board of Trade. It stood to the west of Bloomfield Road, alongside the railway, between the canal and the railway, where Bloomfield Park industrial estate is today. It was set up following an Act of Parliament in 1864 which instigated various regulations.
All the work carried out there was under the direct control of Lloyd's Committee, London, and certificates issued were signed by E. R. Isitt, Lloyd's Superintendent, and were recognised by every insurance company throughout the world. The Staffordshire Public Chain and Anchor Testing Company also had another test house at Netherton. The Superintendent was Mr. S. Tregenner.
Chains, cables and anchors for seagoing vessels had to be tested to ensure that they complied with the various tests and specifications laid down under the terms of various Acts of Parliament. The Proving House also tested chains for use in cranes and industrial applications.
The Great Bridge Foundry Company Limited
The Great Bridge Foundry Group of companies started as an iron foundry, becoming a small brass foundry. At the Sheepwash Lane works, the company specialised in light alloys and produced about twenty tons of sand and die castings each week along with castings in gun metal and phosphor-bronze.
Another member of the group, Maples Foundry produced general grey-iron castings for the trade and for use in the its famous "Sanito" range of sanitary fittings. Patterncrafts Limited, also a member of the group, made patterns and dies, especially for engineering models. A later addition to the group, Machined Castings, Limited, supplied finished components for many industries.
The research department developed a machine capable of producing cores at the rate of 240 per hour, which was electronically controlled and completely portable.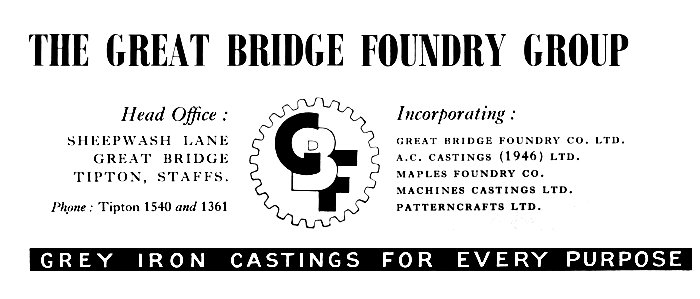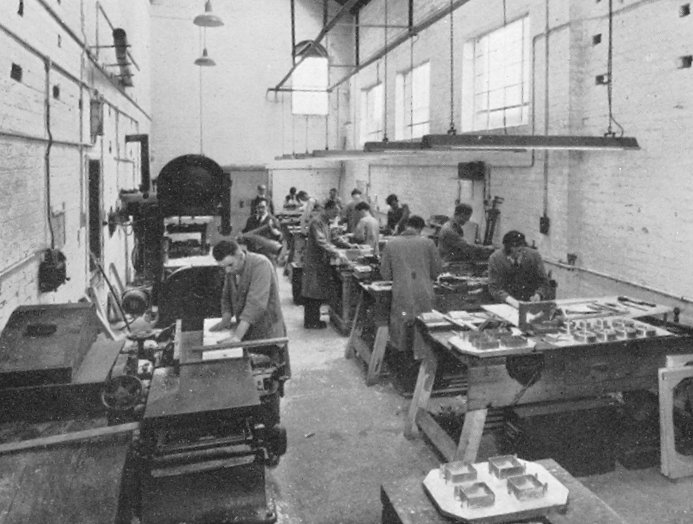 Pattern making at Patterncrafts Limited. A member of the Great Bridge Foundry Group.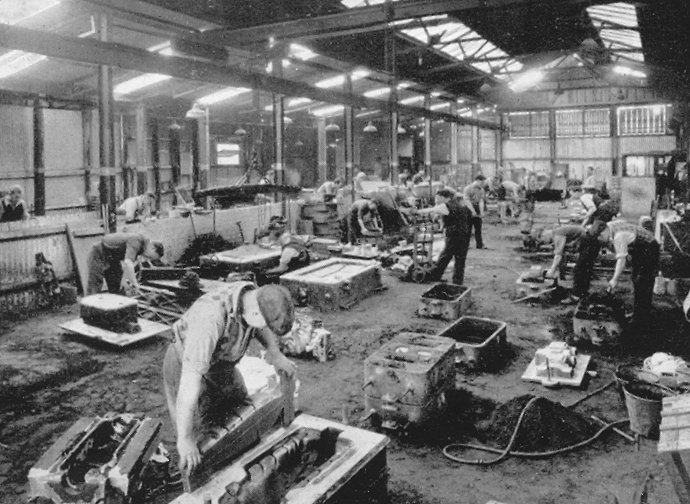 One of the aluminium foundry bays.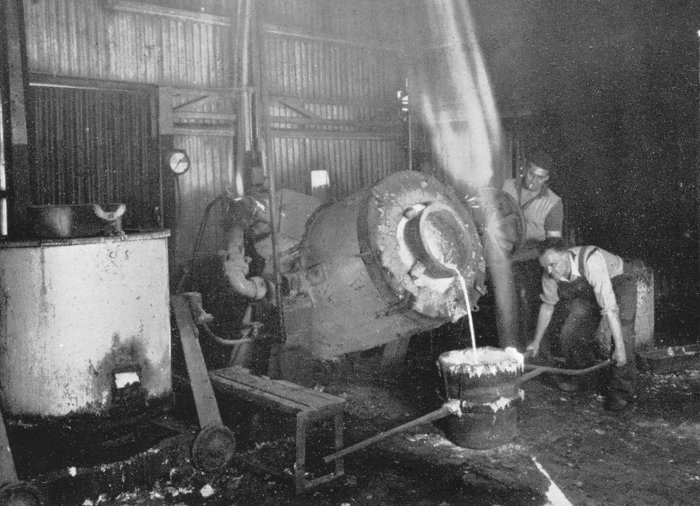 Ready to cast.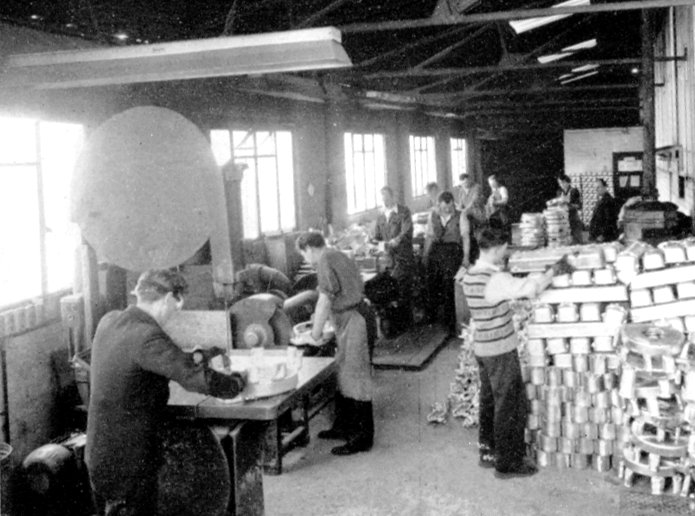 The Felting Shop at A.C. Castings (1946) Limited.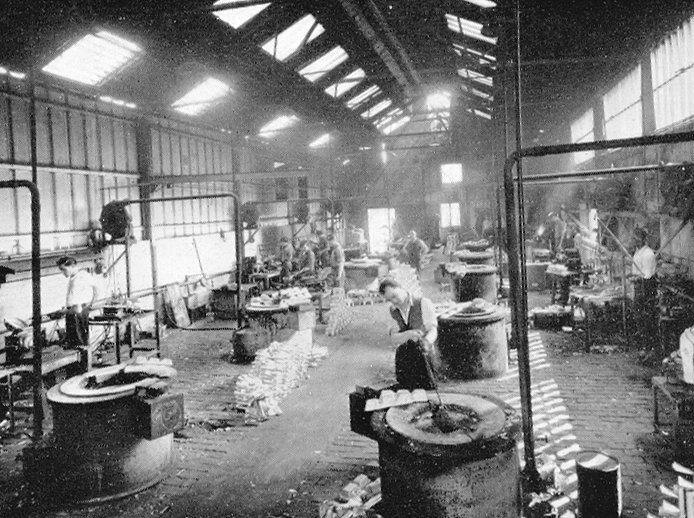 The Gravity Die Casting Shop at A.C. Castings (1946) Limited.
| | |
| --- | --- |
| Casting a light alloy diesel engine crankcase at A.C. Castings (1946) Limited. | |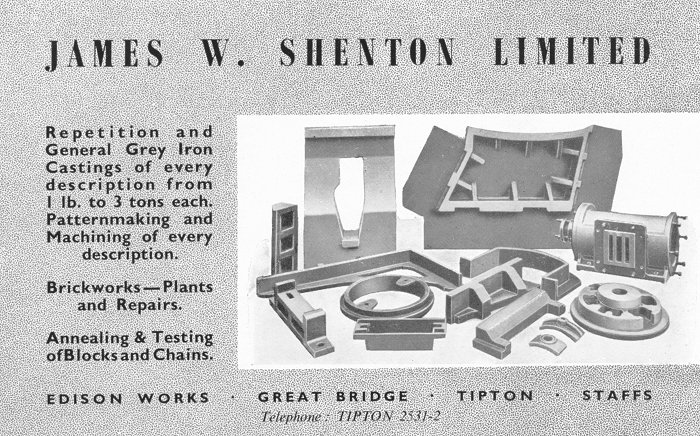 An advert from the mid 1950s.
| | |
| --- | --- |
| An advert from the mid 1950s. | |
Grates and Tiles
Charles Lathe & Company Limited was founded in 1872 by Charles Lathe, J .P. to produce a wide range of products including glazed tiles for fireplaces etc. and a range of tiled fire places and grates.

The business was later run by Alfred Lathe, J.P. and Charles E. Lathe, grandsons of the founder.

The company's products included solid fuel burning appliances, continuous burning grates, convector grates, ranges, rustless furnace pans, castings for the building and engineering trades and for the railways.

A subsidiary company, Charles Lathe & Company (Tile) Limited was founded in 1927. The trade mark of both companies was "Claco."

The company closed in 1969.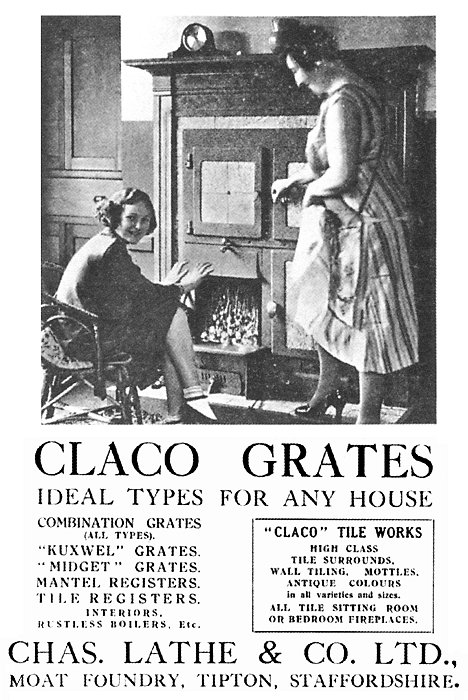 An advert from 1930.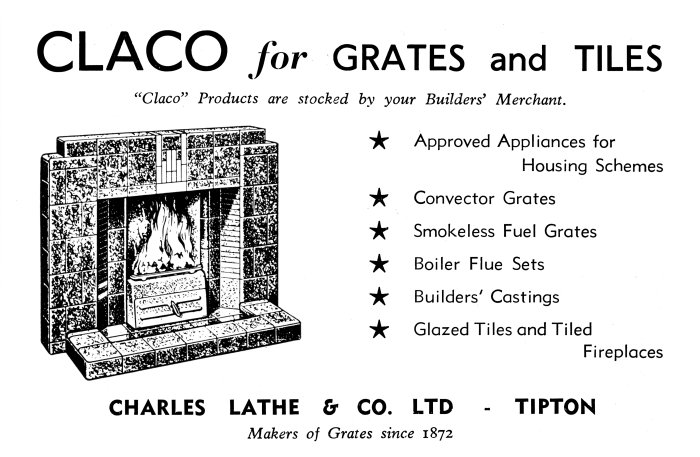 Two adverts from 1947.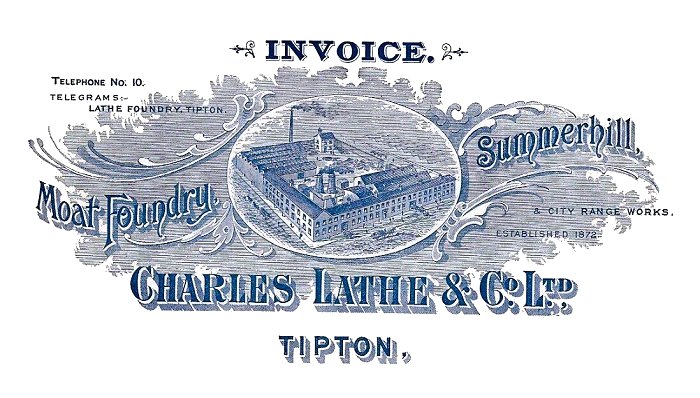 An invoice heading from 1914.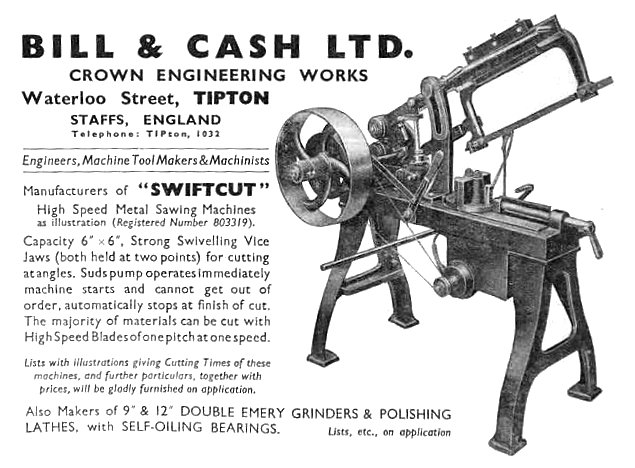 An advert from 1938.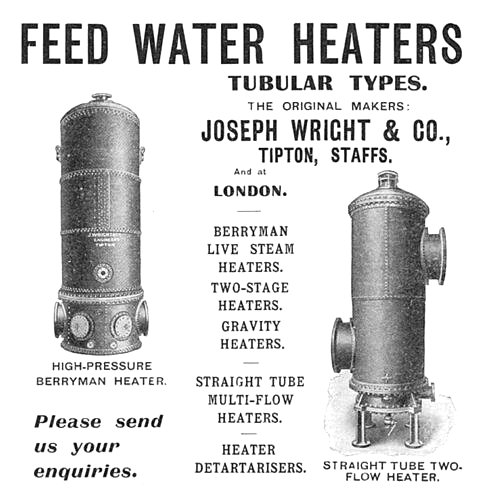 An advert from 1909.
A Joseph Wright & Company
feed water heater from 1898.
| | |
| --- | --- |
| | A Joseph Wright & Company Patent Excelsior Heater, Filter and Grease Separator from 1895. |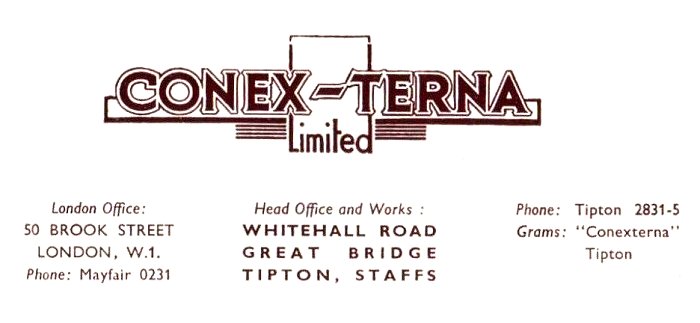 A letterhead from 1947.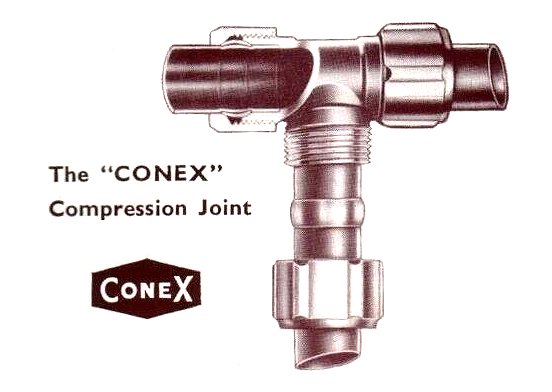 An advert from 1947.
The Tipton Tub and Tube Company Limited
The Tipton Tub and Tube Company Limited was founded in 1911 by Albert Parker and incorporated in 1915.
Production consisted of colliery tubs, air pipes and general engineering forgings at a site in Brook Street, before moving to Bloomfield Road, in 1938. A wide variety of welded and riveted plate work was fabricated, including "Centriflovane" grit catchers, invented by Albert Parker, and widely used in gas works in the United Kingdom and abroad, to remove the grit from the waste gases from carburetted water gas plants which would otherwise escape into the atmosphere. They have been installed on Lancashire and other boiler chimneys, and exhaust stacks.
The firm employed a large number of erectors to erect both the grit catchers and steel chimney stacks, which were another of the company's products. They were sold throughout the country.

The company also specialised in the manufacture of elevator and conveyor buckets, ranging in weight from over 1 cwt, to less than 1 lb. Facilities were also available to produce plate work up to ⅜ inch thick and forgings up to 40 lb. in weight. The range of goods in regular production included heavy duty and special purpose wheelbarrows, coal and coke chutes, tipping, drop bottom, radial door and other special skips, hoppers and pipe work.

Most of the employees were with the company for many years, the majority having started straight from school. Company Directors included Albert Parker's brother, Joseph Parker and his nephew, John Parker.


A "Centriflovane" grit catcher.
W. J. Tranter Limited

W. J. Tranter Limited, of Tibbington Works, Princes End, founded in 1890, produced thermal insulation for many years. The business was very successful and the large number of staff carried out contracts all over the country. Materials used included asbestos, cork, glass silk, etc.

The firm also supplied lubricating oils and greases, motor oils and greases, soluble oils, drawing mixtures, screwing oils, curriers' oils, and sulphonated oils, etc. which were regularly analysed and tested in the company's well-equipped laboratory to ensure a high standard of quality.

Other products included paint and bitumen solutions, made in all colours and grades, from the highest quality glossy varnish paint to the cheapest grades for rough coating. Also gold and aluminium paints. All materials were sold under the name of 'Titan' Specialities and were very well known.
Triplex Foundry

Triplex Foundry was founded in 1918 at Toll End by Charles Robert Horrell to make Triplex grates. Production began in 1919 and Triplex Foundry Limited was formed in 1920.

A new factory was built for the production of the triple function grate, which heated the room, heated water and cooked food.

Around 1930 the company opened a new factory in Upper Church Lane and introduced fire resistant products, finished in porcelain enamel. During the Second World War II the firm produced munitions for the war effort.

After the war the company modernised and started to concentrate on castings for the automotive industry.

In 1956 the firm acquired Sillett and Cooksey of West Bromwich, specialists in metal spinning and light metal fabrication, and also acquired the Great Bridge Foundry Group and the stock, patterns and trade-marks for gas cookers of R. Russell and Company.

In 1957 Vowles Aluminium Foundry and Henry Harrison and Sons were acquired. In 1959 the firm acquired Ridgacre Foundry and in 1974 opened a new factory in King's Norton for an aircraft division.
In the 1990s the business expanded and became one of the main producers of turbo housings for cars.

The Triplex Foundry Group was formed with several other foundries. In the 1980s it became Triplex Lloyd and was later taken over by Doncaster Engineering, to become Triplex Components. In 2003 it became Sigmacast Iron Limited after a management buyout and in 2005 was taken over by Amtek. The Tipton factory closed in 2009 when production had been transferred to India.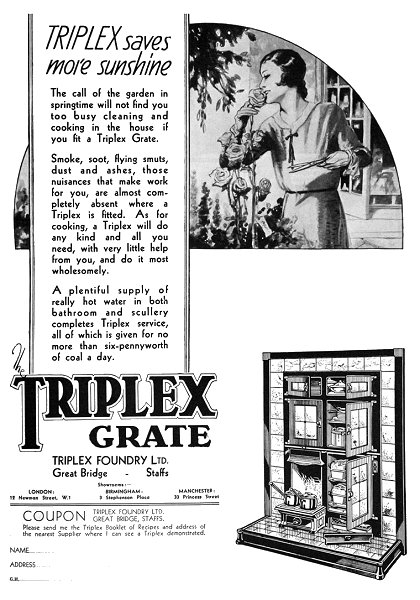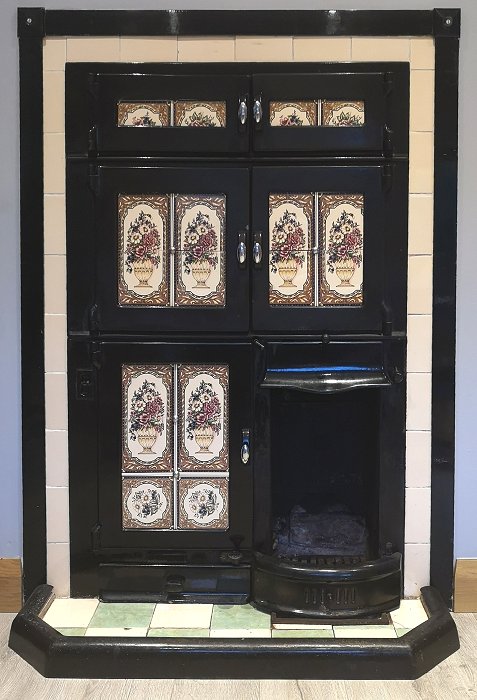 The lovely Triplex grate that belongs to Ian & Liz Falconer.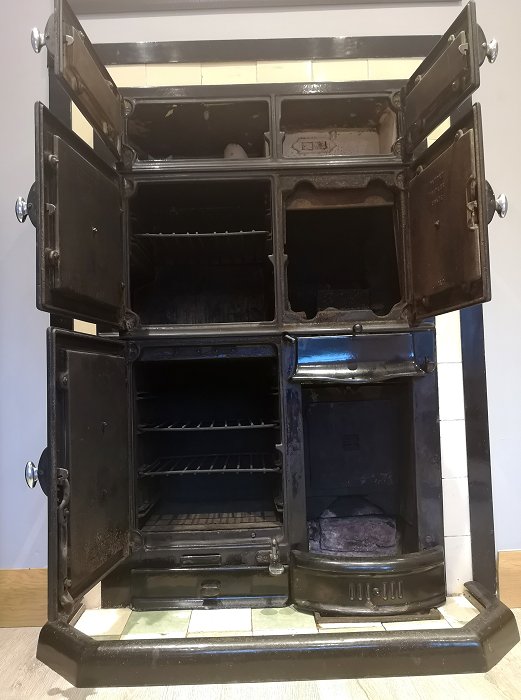 Ian & Liz Falconer's Triplex grate with the doors open.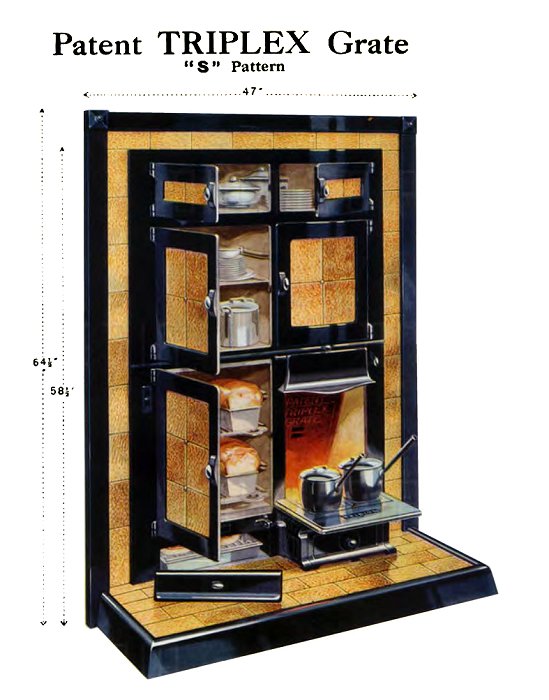 Courtesy of Ian & Liz Falconer.
The Vono Company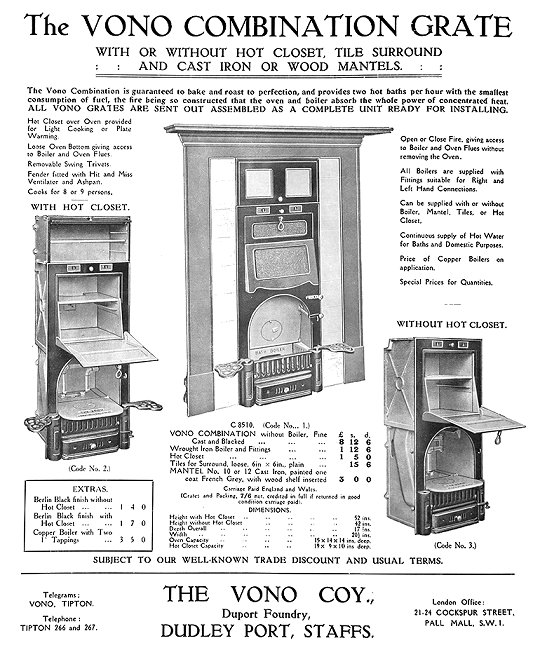 The Vono Company, an acronym of Vaughan Only, No Others, was founded by Ernest Vaughan in 1896. At one time it was Tipton's largest employer. His son Septimus, went into partnership with Frederick Reeves, who founded Revo in 1907.

The Vono factory, called Hope Works, was in Sedgley Road East, Dudley Port, where the Vaughan Trading Estate is today.

Vono specialised in the manufacture of mattresses and bedstead fittings. In 1933, products included mattresses, wooden bedstead fittings and combination and spiral spring mattresses.

Ernest Vaughan married Cecilia and they moved into a small house on a site that is now occupied by Burnt Tree Island. They later moved to 'Greenroyd', a big detached house with a large garden in Pedmore, Stourbridge and after the First World war, to 'Field House', Clent, which has a Japanese style water garden that was designed by Gertrude Jekyll in 1914.

In 1939 the firm was incorporated as a private company.

During the Second World War, products for the war effort included Bailey Bridges, pontoons and ammunition.
In 1946 the firm became a public company, concentrating on the production of perfect sleep equipment; domestic equipment; wood and metal components required for the housing programme; engineering accessories for the motor; aircraft; electrical; gas and refrigeration trades; speciality castings; plastic mouldings; fibre upholstery and components for the railways, and the motor, aircraft and furnishing trades.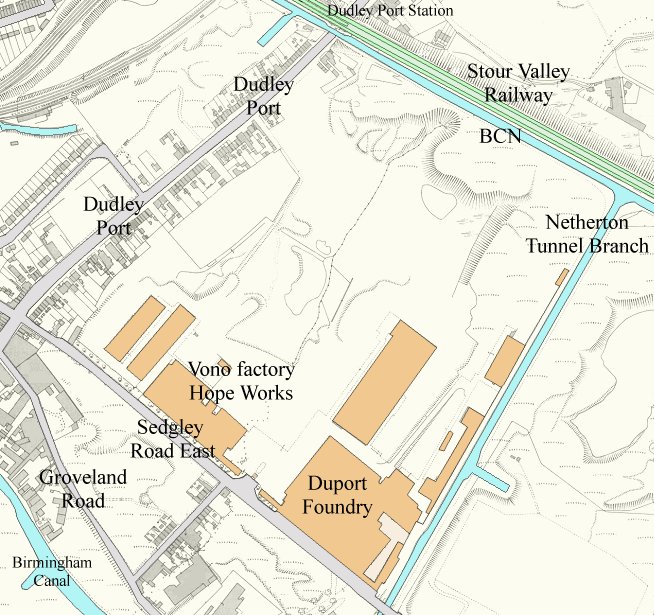 The site of Hope Works and Duport Foundry.
The perfect sleep equipment consisted of adjustable bedstead castors, bedstead fittings, divans, metal camp folders, overlays, spring interior mattresses and wire mattresses.

In 1950, W. L. Barrows took over as Chairman and the company name was changed to Vono Industrial Products, which became Duport in 1956. The Duport name was derived from Dudley Port. It was initially used as the name for the iron foundry on the Vono site, Duport Foundry.

Duport was an industrial holding company that purchased a large number of manufacturing companies, including Revo (by an exchange of shares) in 1956. In 1967 Duport sold the goodwill, patents, and trademarks of Revo to English Electric. The street lighting division was sold to Tubes Limited, who sold and developed the range under the 'Relite' name. In 1970 Duport acquired Slumberland Limited, which with Vono gave it 30% of the British bed manufacturing market.

By 1980 the steelmaking part of Duport was in trouble and in 1981 it was purchased by British Steel. In 1982 the bed making part of the business was sold to Airsprung of Trowbridge and in 1986 Duport was acquired by Williams Holdings, an industrial conglomerate based at Monmouth.

I would like to thank Jason Vaughan for his help with this section.
In the 1980s, part of the Vono factory was demolished by W Hayden & Son Limited, based in Webb Street, Coseley. The following three photos were taken during the demolition. They are courtesy of Andy Hayden.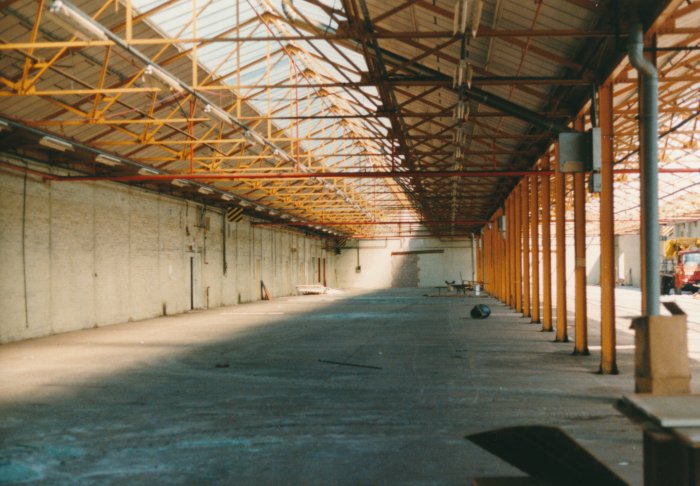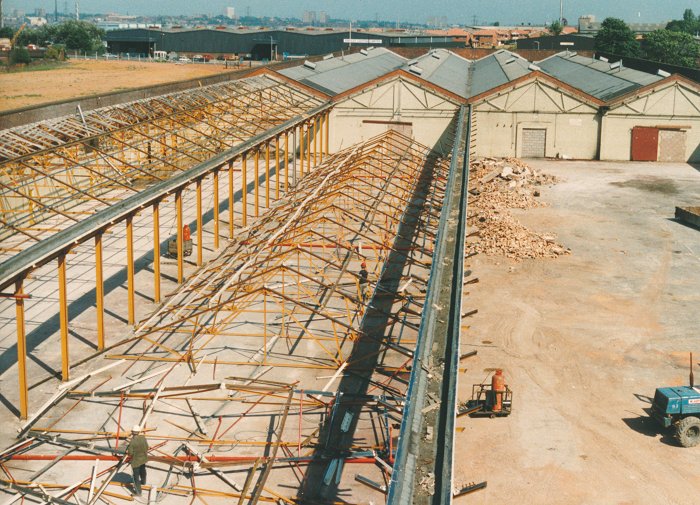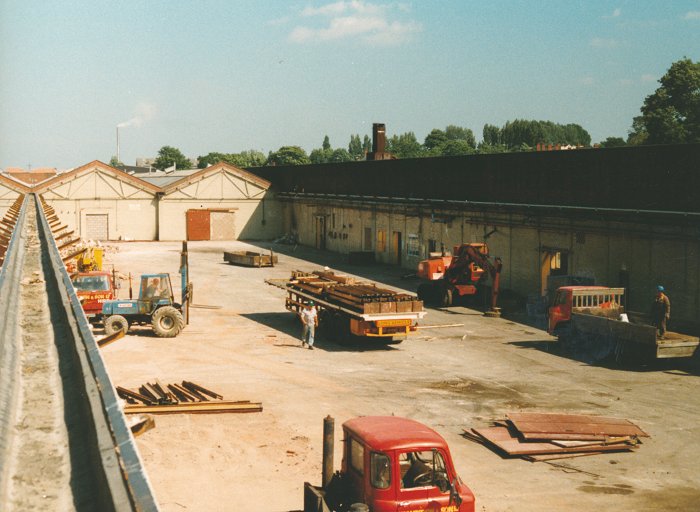 | | |
| --- | --- |
| | Another business that became part of Duport was Grovewood Products Limited, based in Dudley Port. A manufacturer of kitchen units, fitted kitchens, chairs and white wood furniture etc. The firm was well known for its Daintymaid kitchen units. |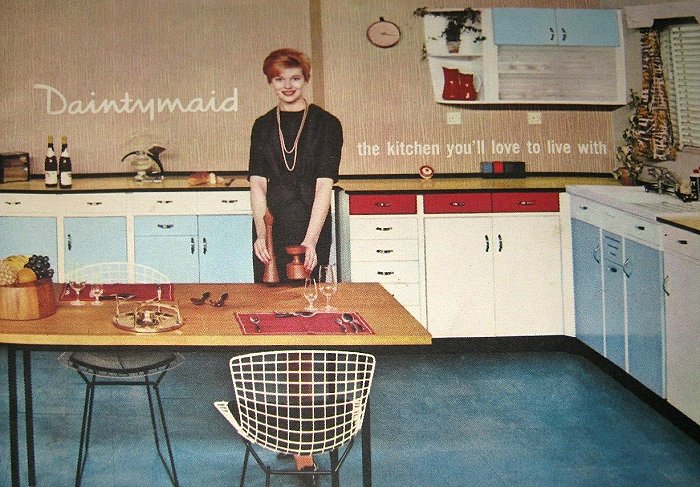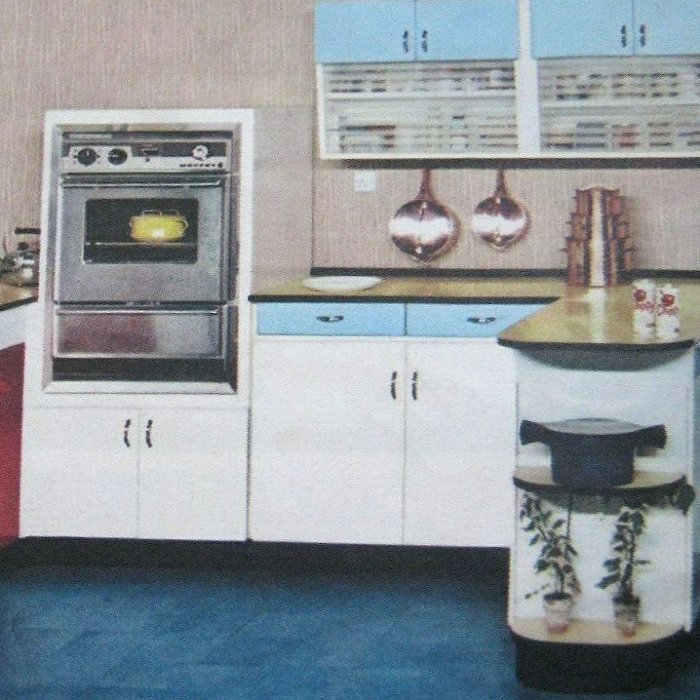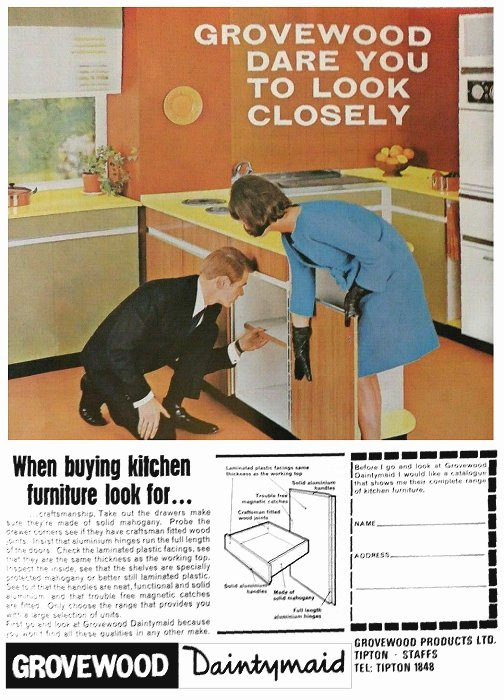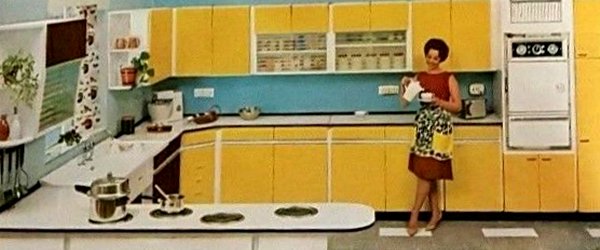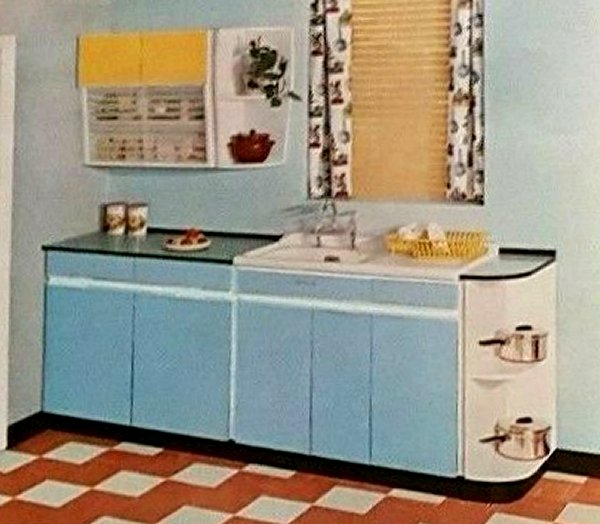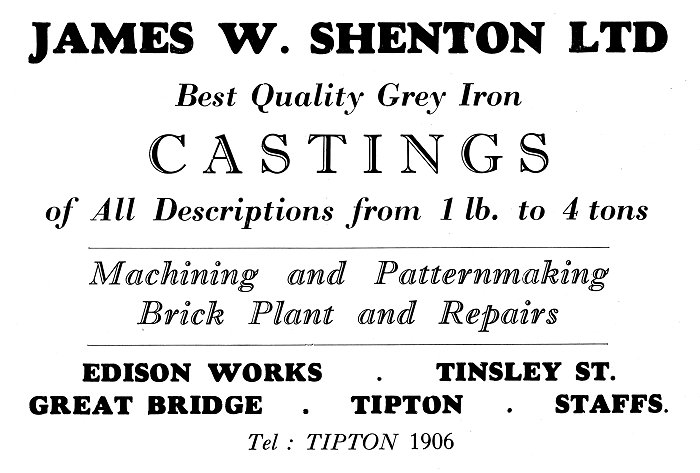 Wellington Tube Works Limited
Wellington Tube works, founded by Joseph Aird, opened in 1872 at Great Bridge and stood between Great Bridge Street and Brickhouse Lane, alongside Ryder's Green locks on the Walsall canal.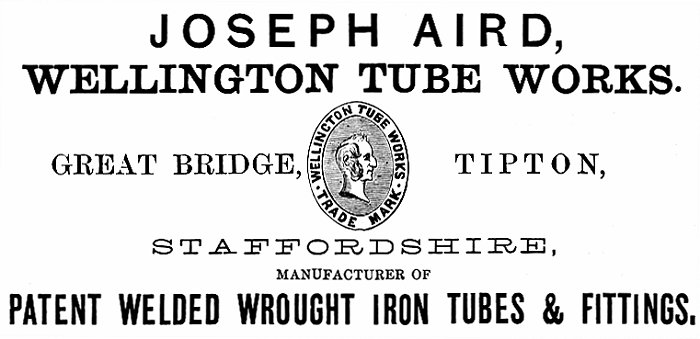 An advert from 1872.
The firm specialised in large lap-welded pipes and took out several patents in the 1890s. In 1891 Joseph Aird took out a patent for a connector to join two lengths of tube that were formed with a flange that was grooved to receive a piece of asbestos or other packing. The flanges were held together by two clamping collars held in position by nuts and bolts. An American patent was obtained on 5th July, 1892.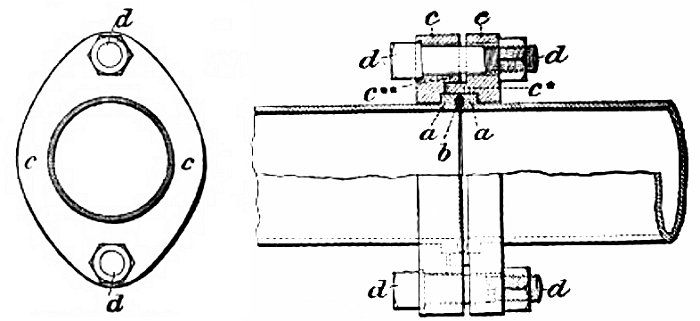 From The Mining Journal, 4th July, 1891.
The following article is from 'The Engineer', 23rd April, 1897:

An advert from 1938.

In 1926 Mr. Douglas W. Turner, Company Chairman was elected Managing Director and in 1937 the firm exhibited a range of products at the British Industries Fair, including mild steel and wrought iron tubes and fittings for gas, water, steam, etc. There were also loose flanged tubes, point rodding and special pipework.

In 1955 a patent was taken out for gilled metal tubes and in 1959 a patent was acquired for finned metal tubes.

The company formed Wellington Tube Holdings which consisted of: Wellington Tube Works Limited, Wellington Engineering Works Limited, Gibbons (Dudley) Limited, The Stampings Alliance Limited, F. J. Ballard and Company Limited, and the Thermic Equipment and Engineering Company Limited.

In 1970 Wellington Tube Holdings sold the tube works for a substantial amount of money to invest in other projects.


A letterhead from the 1950s.
Static air-cooled heat exchangers were first used widely where water supplies were inadequate, polluted or non-existent.

The Heat Exchange Division of Wellington Tube Works Limited, Great Bridge, developed a range of air-cooled equipment which in two basic types, could deal with any heat exchange problem of any size.

The Wellington heat exchangers were designed to be used worldwide, in several different forms ranging from a single fan to multiple fans. They were easy to install and extremely reliable.


A small Wellington heat exchanger.
| | |
| --- | --- |
| | A large multiple fan Wellington heat exchanger. |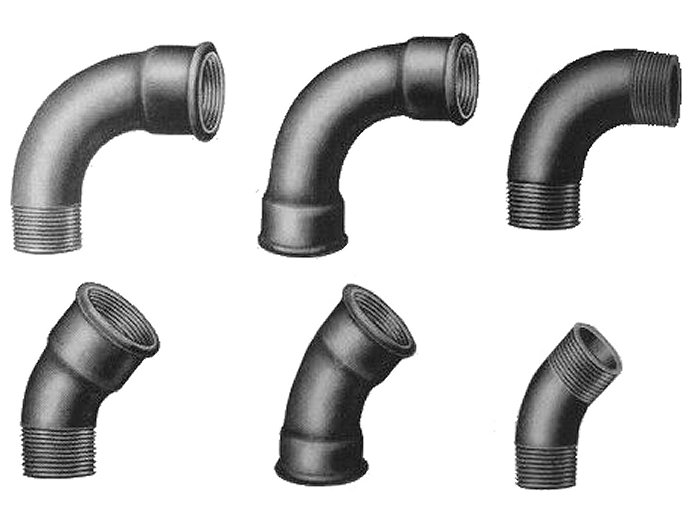 Wellington beaded and banded fittings from the 1960s.


Wellington steel tubes from the 1960s.
| | |
| --- | --- |
| | Other Wellington products included standard expansion bends and heating installation expansion bends. |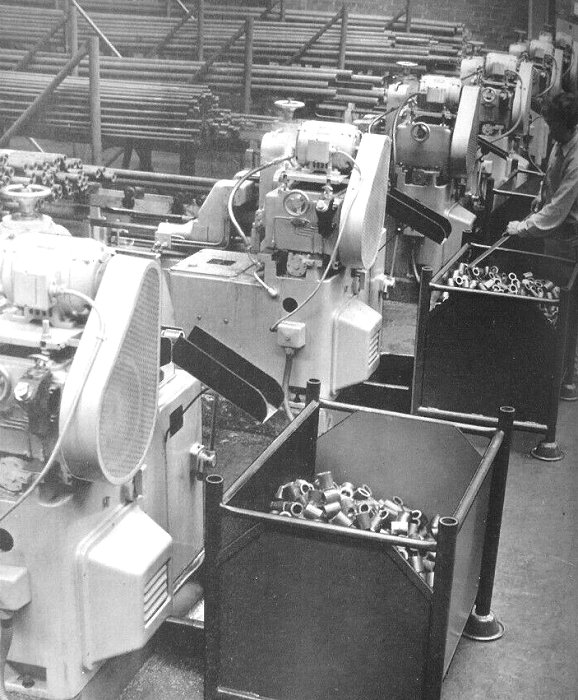 Some of the automatic tube cutting-off machines in the factory.
The Denbigh Engineering Company Limited was founded in 1902 to produce the 'Denbigh' range of machine tools, vertical drilling machines, horizontal milling machines, power hacksaws, and fly presses.

The products were sold through machine tool merchants and agents throughout the world.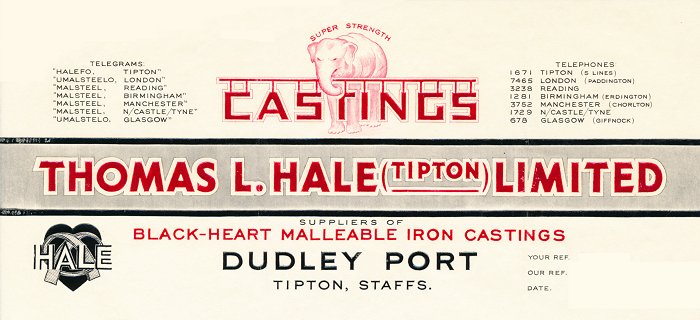 A letterhead from 1937.
Hale and Hale of Dudley Port, were in business in the 1930s as Thomas L. Hale (Tipton) Limited. The firm produced castings in 'blackheart' malleable iron and steel alloy.

Hale and Hale (Tipton) Limited was incorporated as a private limited company on the 12th October, 1936.

Customers included the Admiralty, the War Office, the General Post Office, railways at home and abroad, ship builders, electrical manufacturers, the agricultural industry, the dairy industry, textile machinery manufacturers, motor vehicle and cycle manufacturers. In 1946 the firm took out a patent for improvements to pit props.

The Chairman in the 1940s was W. Edgar Hale.

The firm had a stand at the British Industries Fair in 1950 and advertised the following products: all kinds of 'blackheart' malleable castings, both machined and un-machined, for railways, electrical manufacturers, shipbuilding, agricultural manufacturers, mining, building and general engineering. The firm also supplied government departments and public bodies.

Chatwins Limited of Market Foundry, Tipton became part of the company.


An advert from 1957.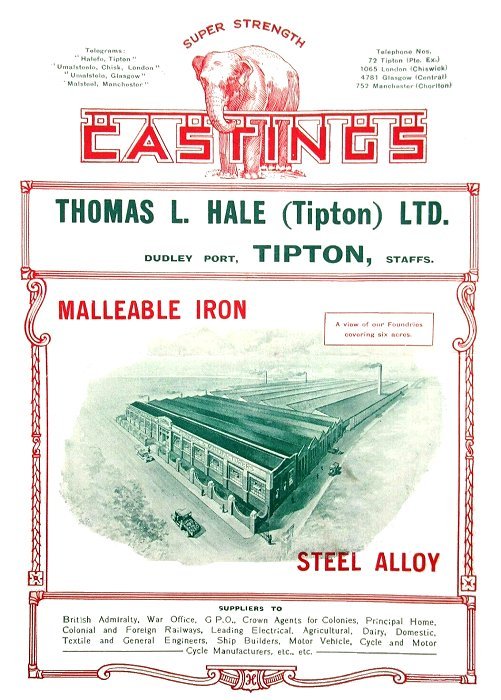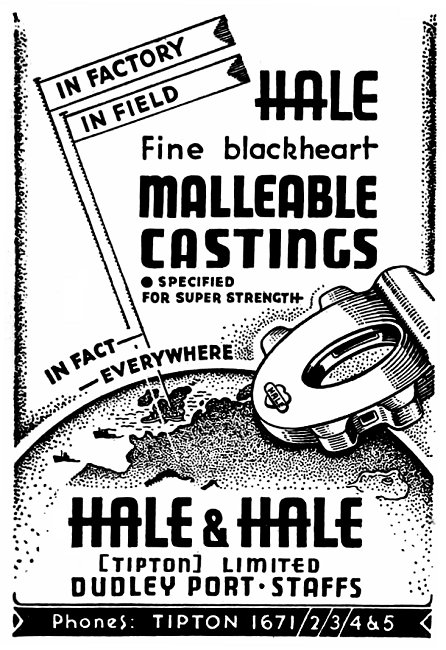 An advert from 1946.
Hale and Hale (Tipton) Limited went into voluntary liquidation in 1998 as can be seen from the notice below, that appeared in the London Gazette, on the 30th July, 1998.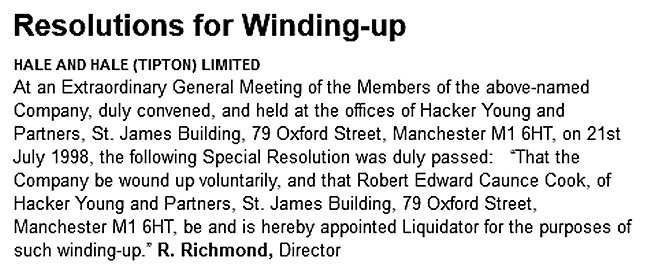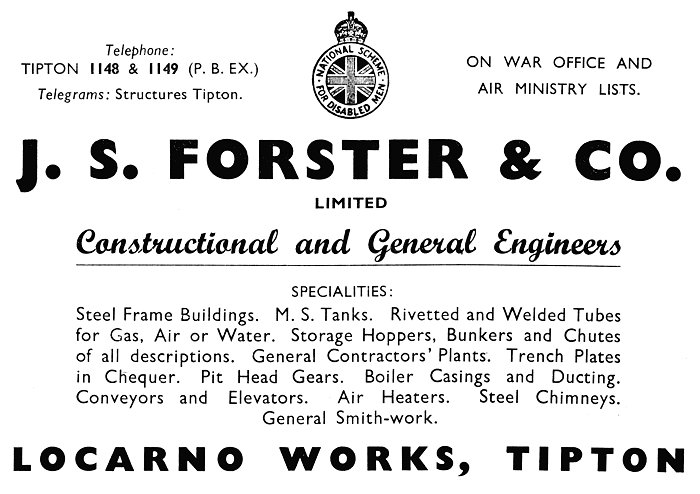 An advert from 1947.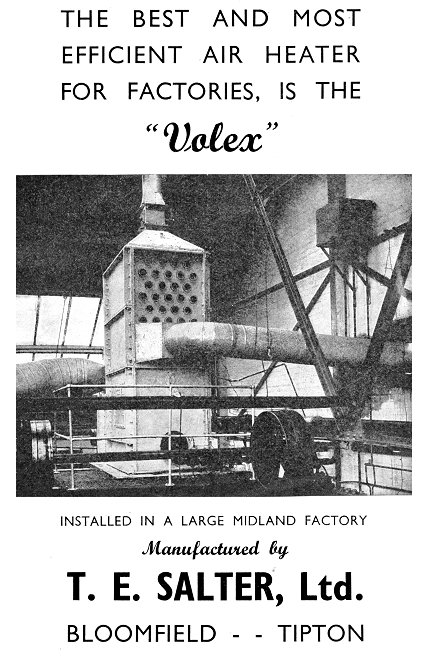 An advert from 1947.
W. G. Allen and Sons
W. G. Allen and Sons Limited was founded by William George Allen, in 1860 to manufacture pit tubs. William George Allen was also licensee of the Rising Sun pub in High Street, Princess End. After his death on the 14th July, 1882, his widow Mary Ann took over the running of the business and the pub, which was next to the factory.
Around 1900, the company introduced a mild steel brewing boiler for use by publicans who wished to brew their own beer. The boilers were initially riveted, but later welded. They were very successful and large numbers were sold.
In 1908, W. G. Allen and Sons Limited was put into voluntary liquidation and in 1909 a private company W. G. Allen and Sons (Tipton) Limited was formed.
Products included colliery equipment, boilers, heating and general engineering. The senior director, G. A. Allen died in 1920. Two years later the Directors were A. E. Allen and Albert Weddell, who became Chairman. The business concentrated on colliery engineering, iron and steel plate making, iron, steel or wood colliery tubs, colliery air pipes and low-pressure piping. Also portable railways and rolling stock.
In 1939 the business went public. Products at that time included pit tubs, light railway plant, welded steel work, industrial and domestic boilers and radiant panels. In 1949 Albert Weddell died and was replaced as Chairman by Arthur Dyson M.I.C.E.
In the 1960s the firm became part of the W. G. Allen and Sons (Tipton) Group and in 1961 the firm concentrated on colliery, light railway and mechanical engineering, welded fabrications in mild and stainless steels and light alloys. Products included colliery tubs, mine cars, "Ixion" precision roller bearings and roller bearing wheels and axles, safety couplings for mine cars, light railway wagons, colliery air pipes and pit cages in steel and light alloys, hydro-mech tipplers, oil fired heaters and heatwave radiant panels. There were 550 employees.
In 1968 the firm acquired Perrymatics and in 1969 Allen Ygnis Boilers Limited. The company was involved in central heating and engineering, but Allens of Tipton made a loss. In 1981 there was a great reduction in the demand for oil and gas fired boilers and air heaters and in 1984 the company went into liquidation. Most of the assets and the subsidiaries were acquired by Stone International in 1985.
G. H. Whitehouse & Son

In 1902 Mr. G. H. Whitehouse entered into partnership with John Tudor and Herbert Onions to start in business as G. H. Whitehouse & Company, at Great Bridge Engineering Works, reconditioning steam plant. The business soon specialised in contract machining and machine tool work.

During World War One the firm produced munitions including 4.5 inch shells.

After the war, trading conditions were very difficult. Mr. Whitehouse had to run the business alone because his two partners had died. The firm then began producing equipment for the Royal National Lifeboat Institution including lifeboat launching keelways.

The firm also developed and patented an improved gas control unit that was sold under the name 'Sentinel'.
In 1937 Mr. G. H. Whitehouse was killed in an air crash whilst on business on the continent. Luckily his son, Mr. H. G. Whitehouse was able to take over, having just returned from the USA. In 1939 at the outbreak of war, the company became one of the leading companies specialising in the reconditioning of machine tools and also produced large quantities of heavy brake drums for aircraft. The firm also designed and patented a universal joint which sold in large quantities.

After 1945 the firm specialised in the design and manufacture of special purpose machinery and the manufacture of racing plates.
John Cashmore Limited
A once well-known Great Bridge company was John Cashmore Limited, iron and steel stockholders, dealers in new and used machine tools, with a breakers yard, where a large number of British Railways' steam locomotives were broken-up for scrap at the end of the steam era.
The business was located off Bagnall Street, Golds Hill, alongside the Tame Valley Canal and the section of the South Staffs Railway line that ran between Wednesbury and Dudley.
The firm also had a similar factory in Newport South Wales, alongside the River Usk, where many ships and steam locomotives were scrapped.

In October 1926 Cashmores acquired and demolished the Bromley Ironworks at Brierley Hill; and in November of that year acquired and demolished the Bromley Ironworks.

John Cashmore died in 1932 at the age of 92. The family continued to run the company which became quite successful. In 1939 the Directors were: Frederick W. Cashmore, Ernest E. Cashmore, Harold V. Cashmore, John Venables, Arthur Smith and John E. Cashmore. John Venables, soon became Managing Director, followed by his son Stuart.

The firm specialised in salvaging scrap metal from demolished factories and foundries, and also scrapping old ships at Newport, and old steam locomotives at Great Bridge and Newport.

After the Second World War, Cashmores installed machines to cut coil strip steel into sheets for manufacturers and began stocking stainless steel.


An advert from 1945.
The company's stock of machine tools included:

Air Compressors
Bandsawing Machines
Bending and Straightening Rolls
Billett Breaking Machines
Horiz. & Vertical Boring Machines
Capstan Lathes
Cold Saw Machines
Drilling Machines
Grinding Machines
Hammers
Hydraulic Plant
Lathes
Milling Machines
Planing Machines
Screwing Machines
Shaping Machines
Slotting Machines
Turret Lathes
Thread Milling Machines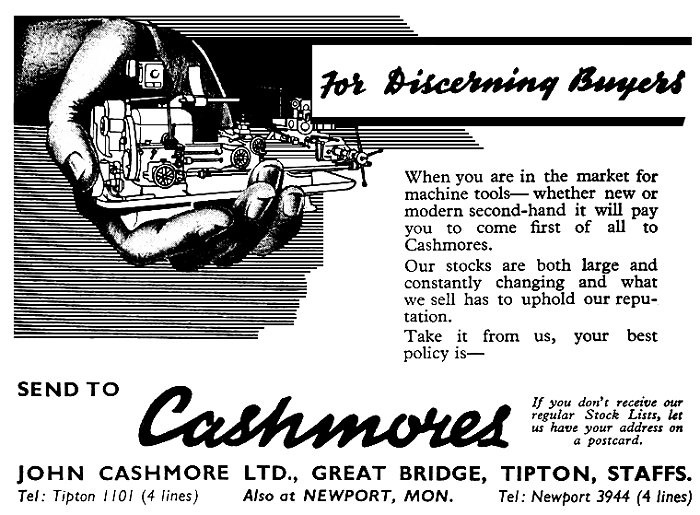 An advert from 1950.
The business greatly expanded thanks to the efforts of Norman Cashmore, who died in June 2009 at the age of 96.

He had been born in Tipton in 1913 and won a scholarship to Queen Mary's School in Walsall. He joined the family business in 1972.

The company was floated on the stock market in 1959 and by the early 1970s was one of the country's largest and most profitable steel stockholders, with warehouses throughout the country.

The shareholders agreed to sell the business to Glynwed International, the West Midlands-based conglomerate, in 1972.

Mr. Cashmore served on the Glynwed board before retiring.


An advert from 1952.
| | |
| --- | --- |
| An advert from 1929. | An advert from 1958. |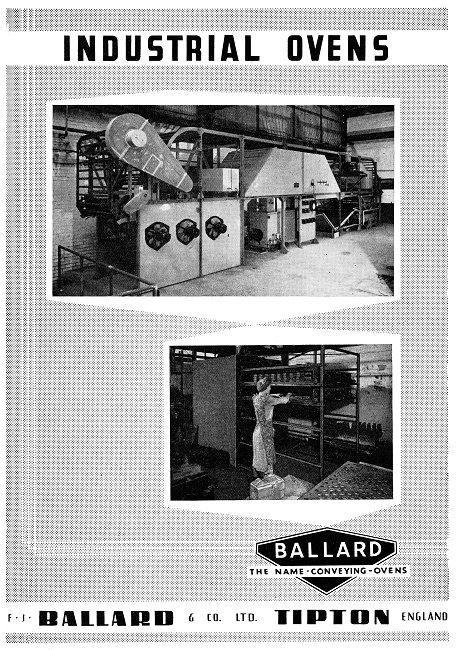 An advert from 1958.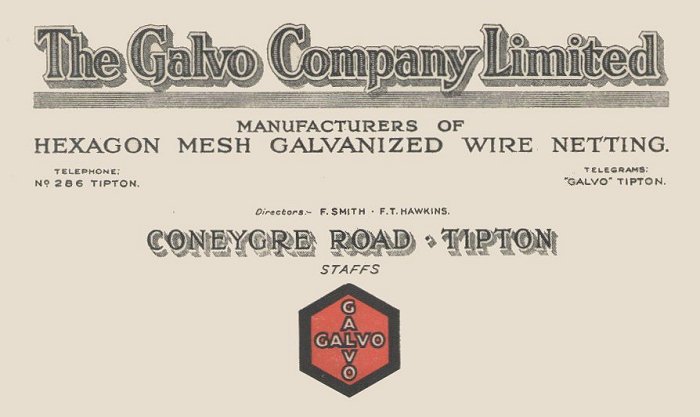 A letterhead from the early 1930s.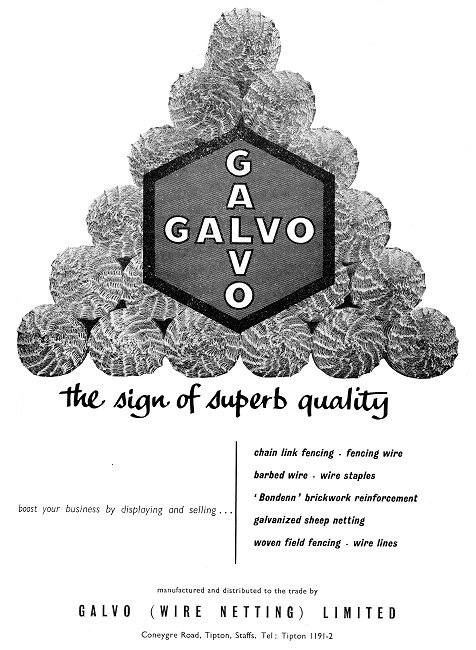 An advert from 1958.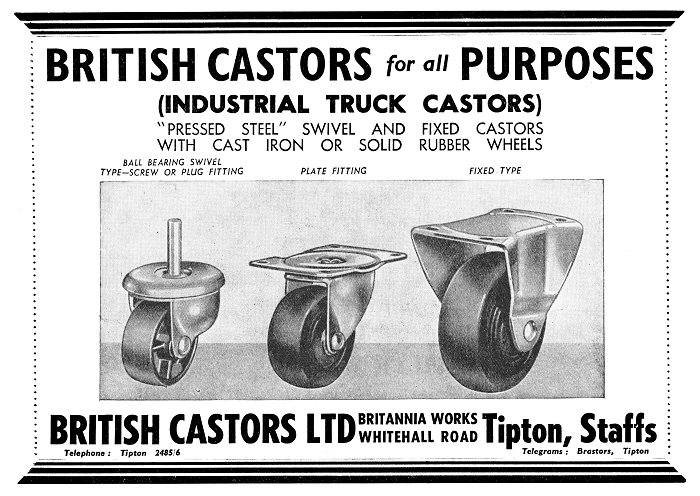 An advert from 1958.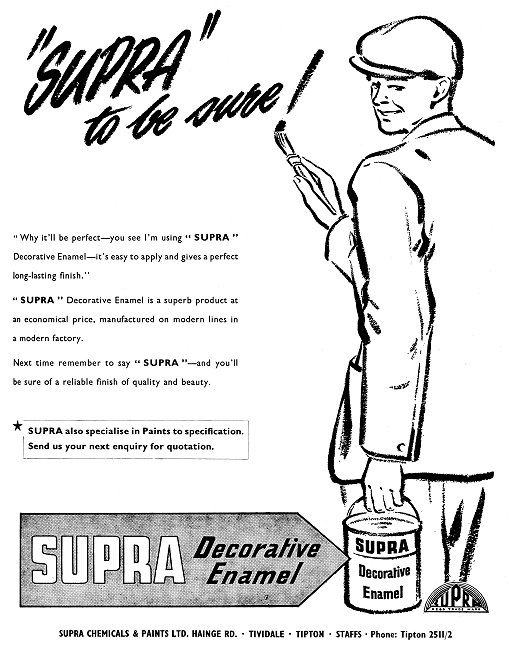 An advert from 1958.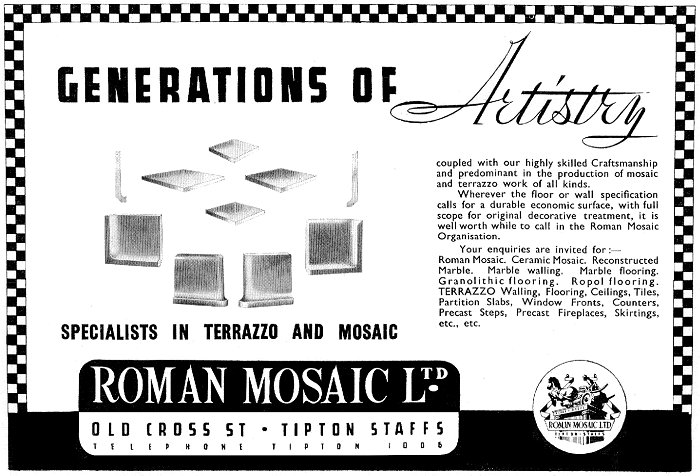 An advert from 1952.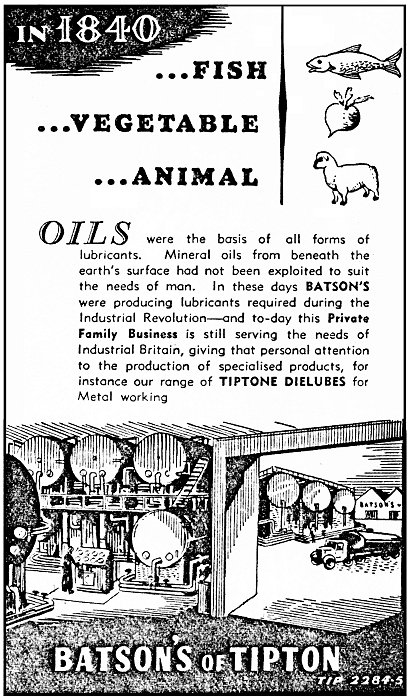 ---