---
Bereavements

The 1880s and 1890s saw major staff changes at the brewery. Ten of the most senior and well respected members of staff died. The deaths were as follows:

| | | |
| --- | --- | --- |
| 3rd August, 1883 | Mr. George Parkes | Age 54 |
| 14th April, 1884 | Mr. Thomas Salt | |
| 27th September, 1886 | Mr. William Bailey Butler | Age 29 |
| 3rd September, 1887 | Mr. I. Richardson | |
| 19th September, 1887 | Mr. W. Nevill | |
| 21st May, 1890 | Mr. William Hodson | |
| 10th March, 1893 | Mr. William Butler | Age 77 |
| 22nd August, 1893 | Mr. Edwin Butler | Age 31 |
| 1st May, 1895 | Mr. John Parkes | |
| 3rd May, 1895 | Mr. W. Holland | |
The bereavements began with the death of George Parkes who had been a loyal employee for twenty three years, and a partner since 1876. When his illness began he tried to carry on as usual, but the attacks of sickness got worse and developed into pneumonia. He died at his home in the old brewery, and was buried at Bilston Cemetery.
Three years later another death occurred which would have come as a great shock to all. William Butler's eldest son, William Bailey Butler who had worked at the brewery for nine years, and become an important member of staff, died after undergoing a life-saving operation. Only eight years earlier all of the employees had celebrated his twenty first birthday in style, at the Molineux Hotel, during a grand party organised by his father. On the day of his birth, his father brewed a specially strong ale, which he kept until the party. It was greatly enjoyed by all of the guests.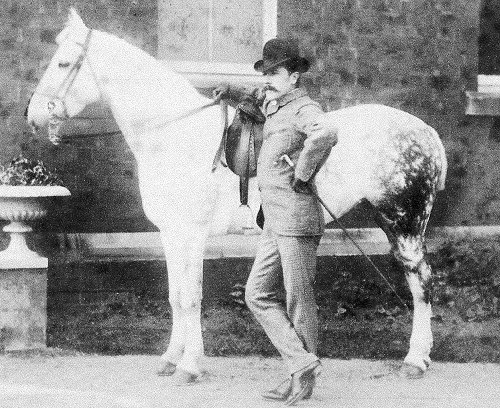 Mr. William Bailey Butler in 1883 to 1885, possibly outside The Cedars. Courtesy of James Hewitt.
In September 1887 Mr. I. Richardson died. He had always suffered from ill health, and was often away from work. During these occasions Mr. W. Holland carried out his duties, so unsurprisingly on his death, Mr. Holland stepped into his shoes.
In 1890 another important member of staff, William Hodson died. During his time at the brewery he had done much to increase trade, and became a much-liked senior partner. Although still living at Compton Hall, he died at Gratwicke House in Worthing, which is believed to have been a nursing home.
After William Hodson's death, William Butler decided to convert the business into a limited liability company, possibly because of his advanced age, and the relative inexperience of the senior management. In April 1891 the firm became W. Butler & Company Limited with a share capital of £300,000. The directors were Edwin Butler, Samuel Butler, Laurence W. Hodson (William Hodson's son), and F. T. Langley. Mr. Holland became company secretary.
Two years later the staff at the brewery received what must have come as a great shock, the death of William Butler, who not only founded the company, but had been the essential driving force behind its development and success. William carried on working until the end, possibly because of the death of his eldest son, who would have been destined to take-over the business. Because of his advancing years, his visits to the brewery were less frequent, and much shorter. On 10th March, 1893, at the age of seventy seven, he spent some time at the brewery before returning home to 'The Cedars', where he passed away that evening.
William Butler's funeral, which took place on Wednesday 22nd March, 1893, was reported in that evening's Express & Star as follows:
The Late Mr. William Butler.
On Wednesday at noon, amid many manifestations of regret, the mortal remains of the late Mr. William Butler, of Compton, founder of the firm of Butler & Co., Springfield Brewery, were laid to rest in the family vault at the Wolverhampton Cemetery.
The officiating clergymen were the Revs. J. Bailey (Isle of Wight), A. Sargent, and R. W. Hopewell. Carriages were sent by Mrs. Butler, Mr. S. Bayliss, Mr. W. Bayliss, Mr. Wilson, Mr. Hodson, and other friends, and the mourners included Mr. Edwin, Mr. Samuel, Mr. Jacob, and Mr. Isaac Butler; Mr. Samuel, Mr. Moses, and Mr. William Bayliss; Mr. S. and Mr. Joseph Bailey, Mr. E. Thomas, Mr. John Parkes, Mr. Wilson, Mr. L. Hodson, Mr. F. T. Langley, and Mr. L. T. Smith.
Wreaths were sent, in addition to the above named, by the employees of Springfield Brewery, the Trinity Wesleyan Sunday School, Mr. and Mrs. Chas. Clarke, servants at Ashfield House and The Cedars, and others.

Samuel Fellows in his history of the brewery, sums him up as follows:
"Mr. Butler was a genius; his knowledge of human nature was great and comprehensive, and his practical acquaintance of every kind of work was remarkable. He was in every sense a working man, and never aspired to public life, but filled his place as a brewer and succeeded in a surprising manner. He left behind him a great concern, the name and reputation of which was famous throughout the greater part of Staffordshire."
Only five months after William's death, his second son Edwin died. He had been suffering from consumption for some time, a disease that is now known as pulmonary tuberculosis. Before his father died he purchased a house for Edwin at Tettenhall, but Edwin never had the chance to enjoy it. On medical advice he went to Colorado in the hope that the warm dry climate might help. Sadly after a stay of several weeks he died, and was buried there. In his will he bequeathed £5,000 to the brewery for the building and maintenance of a reading room, and another £5,000 to provide music in West Park during the summer months.
On 1st May, 1895 another important and well-liked member of staff, John Parkes died. He had been suffering from bronchitis for some time. Initially it seemed as though he would recover, but as the illness progressed he had to remain at home. He died there, and was buried alongside his brother at Bilston Cemetery.
On 3rd May, 1895, only two days after John Parkes' death, W. Holland died at Abergele. He was buried at Wolverhampton Cemetery on the same day as John Parkes. It must have been a very sad day for everyone at the brewery.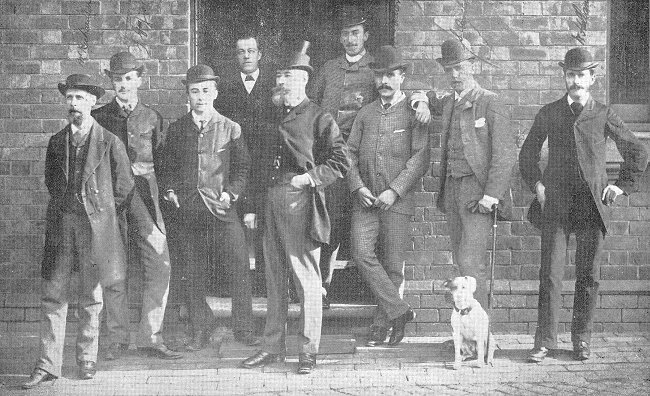 Left to right: Mr. I. Richardson, Mr. Guy, Laurence Hodson, Samuel Fellows, William Hodson, Edwin Butler, William Bailey Butler, Mr. Oxenham, and Mr. W. Holland. From the July 1940 edition of Butler's Magazine.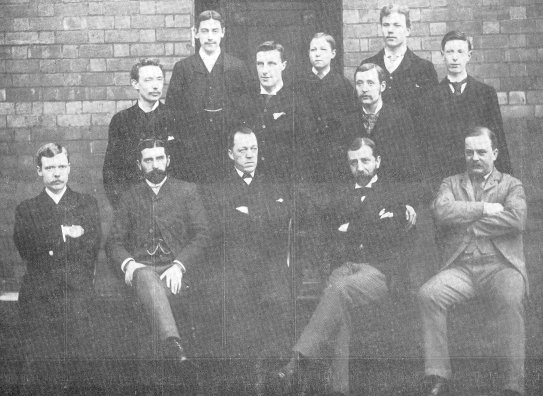 Back Row left to right: Mr. A. W. Hunter, Mr. A. L. Legg, and Mr. H. Slater.
Middle Row left to right: Mr. A. E. Wood, Mr. H. T. Hards, Mr. A. Southwick,
and Mr. J. S. Yates.
Front Row left to right: Mr. E. Ecclestone, Mr. W. H. Holland, Samuel Fellows,
Mr. W. C. Sheldon, and Mr. S. Ismay.
From the July 1940 edition of Butler's Magazine.
A close-up view of Samuel Fellows from the photograph above.

In 1870 Samuel Fellows was engaged by the company to assist in the office. He worked at Butlers for 35 years before leaving due to ill health in August 1905.

His history of Butlers covering the first sixty eight years of the company's life, ended on 30th September, 1908.
---