---
Early Growth

Orders continued to grow, and so in 1864 Mr. G. T. Lawley was engaged as a clerk to assist Mark Taylor. Twelve months later he became the brewery's second traveller and agent, in order to reduce George Parkes' workload. His role in the office was taken over by a younger man. By this time William's family had grown, and so he left the house by the brewery and moved into a larger and more palatial house called 'The Bhylls' in Bhylls Lane, Castlecroft. When the Butler family left their old home, the two ground floor front rooms became the office, and Mark Taylor resided at the back.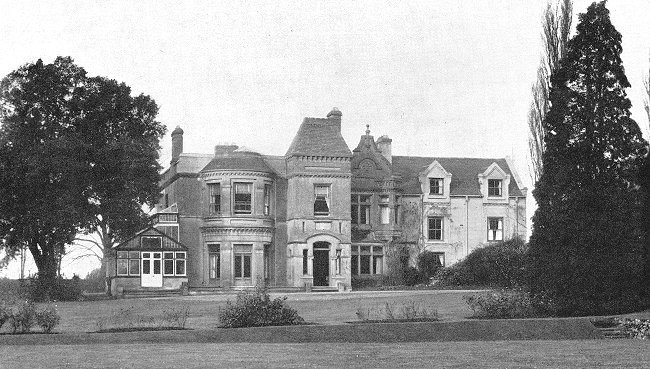 The Bhylls, later called Bellencroft.
Life at the Bhylls was much grander than at Priestfield. The house had several large ground floor rooms including a morning room, drawing room, dining room, an ante room, and a conservatory. Other rooms included a large kitchen, a larder, dairy, pantry, china pantry, and a scullery. There were eight bedrooms on the first floor, a dressing room, a bathroom, toilets, and two servant's bedrooms above. The house also had a wine cellar, a stable in the yard, an extensive kitchen garden, a flower garden, and tennis courts; everything that you could expect to find in a successful gentleman's country residence.
A nice image of Ettingshall New Village Brewery from 1867, presumably produced for advertising purposes

Butler's Magazine, May 1924.
In 1871 the Butler family moved again, to a new and even larger house, which William had built. The house, called 'The Cedars' on Compton Road is still there today. The family's improved lifestyle was a direct result of the success of the brewery which went from strength to strength. The twenty two staff in 1871 were as follows:
| | |
| --- | --- |
| Brewery | Thomas Salt and his assistant J. Corfield. |
| Tun Room | J. Sutton and W. Roberts. |
| Cellars | J. Faux and T. Sutton. |
| Cooperage | G. Dytch who replaced R. Allman who died that year. |
| Cask Washing | S. Jackson and an assistant. |
| Maltings | J. Vernon and an assistant: J. Vernon replaced R. Boden who died that year. |
| Engineer | J. Johnson. |
| Blacksmith | J. E. Jarvis. |
| Bottler | J. Grove. |
| Draymen | W. Willis, J. Panting, W. Tysoe, and A. Bates. |
| Travellers | George Parkes and G. T. Lawley. |
| Office | Mark Taylor and Samuel Fellows. |
William Butler, now over sixty years of age, found that he could no longer manage the business single-handed, and so he took the decision to go into partnership with Mr. Thomas Russell, who later ran the Great Western Brewery in Wolverhampton. Mr. Russell was an energetic and resourceful manager who quickly made a lot of changes, and passed his enthusiasm on to the staff. Orders rapidly grew, particularly after he engaged Mr. W. Grattidge as traveller and agent. Mr. Grattidge came from the Oak Inn in Oak Street and had many connections in the trade. Within a short time he doubled the amount of business, which resulted in an increase in the number of staff, and the brewery permanently working at full capacity.
The brewery relied upon a supply of high quality water from its well, which until now had been more than adequate. Because of the doubling of the business, more water than ever was needed, more than the well could supply. It quickly became obvious that the situation could only be resolved by moving to a new site with a better supply of good water, and with space on which to build a brewery, and expand the business as necessary.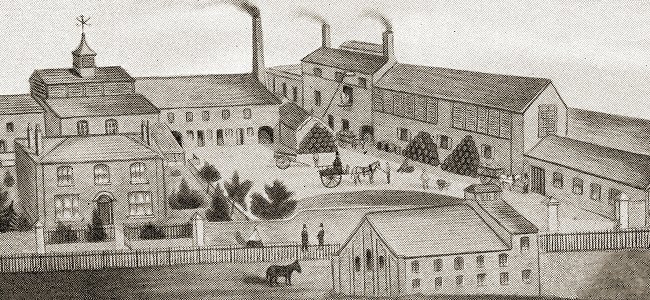 A final view of Ettingshall New Village Brewery, from the 1867 image seen above.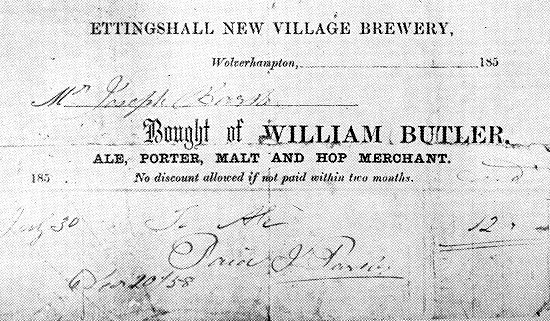 A receipt from 1858.

A receipt from 1865.
---