Fullwood Tyres - A family history

James Treen Fullwood; his family and the Staffordshire Motor Tyre Company
he founded in 1908

By David Fullwood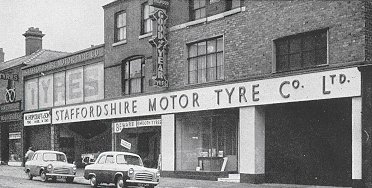 Fullwood's have lived in and around the Black Country area (Sedgley, Bilston, Tipton, Dudley, West Bromwich and Wolverhampton) for at least 500 years with the earliest parish record indicating a Margaret Fullwood was buried in the parish of Sedgley in 1539.

However, this biography concerns my own branch of Fullwood's who moved from Sedgley parish Staffordshire in the mid 1700's to Bilston and then moved to Wolverhampton after the Cholera epidemic of 1832.

My family were not from a privileged back ground but thanks to the entrepreneurial skills of my great grandfather James Treen Fullwood, he realised at the turn of the century that the age of the horseless carriage was about to take off. He therefore purchased a tyre repair business in 1908 located in Queen Square Wolverhampton which then went on to prosper and expand to become one of the largest tyre retail businesses in the Midlands if not the UK.

As well as running the business, certain Fullwood family members became involved in Wolverhampton's public life such as local council politics, supporting local football teams and helping to raise funds during World War II.

Fullwood Tyres were a medium sized company in Wolverhampton, but with 16 other retail outlets in outlying towns such as Wednesbury, Walsall and Shrewsbury they were a major employer within the area. Members of the family were involved in civic affairs with two of them becoming Wolverhampton Mayors (Harold and his son Ted Fullwood) who both served as aldermen specialising in transport issues.
I would like to thank everyone who has helped me compile this family history biography and in particular I would like to express a special thank you to Carl Chinn, and the archives of the Wolverhampton Express & Star and Wolverhampton Wanderers FC for their help.
I hope those of you who have enjoyed reading these pages and perhaps have additional information or photographs about my family which you would like to share with me, then please feel free to contact me via my email address: david.fullwood@btinternet.com



David Fullwood
Wolverhampton
---