---
Many of the major manufacturing companies in Darlaston were founded in the 1870s and 1880s. Some of them became the largest employers in the area, with a worldwide reputation for quality. This happened against a background of depression, as many people were out of work. There were riots in Wednesbury by the unemployed, and deaths from starvation were not uncommon.

| | | |
| --- | --- | --- |
| | | Read about some of the larger companies: |
| | | Charles Richards and Sons Limited |
| | | David Etchells & Sons Limited |
| | | Rubery Owen & Company Limited |
| | | Guest, Keen and Nettlefolds |
| | | Garringtons Limited |
| | | Wilkins and Mitchell Limited |
| | | The Steel Nut & Joseph Hampton Limited |
| | | The Darlaston Bolt & Nut Company |
| | | The Wellman Smith Owen Engineering Corporation Limited |
Another well known company, E. C. & J. Keay Limited was founded in 1879 at New Street, Birmingham by Ernest Charles Keay and his brother James Keay. They were builders and ironmongers. In 1884 they moved to Cyclops Works, West Bromwich and began to manufacture fencing, fittings, and steel fabrications.

The site that would eventually be occupied by the company at James Bridge, originally belonged to Samuel Mills, the wealthy industrialist and land owner who ran Bills and Mills ironworks at The Green. After his death in 1864 much of his land was sold-off by his executors, Richard Mills, Martha Mills, and James Slater.

In January 1870, just over an acre of land alongside James Bridge Railway Station and Walsall Road was purchased for £150 from the executors by Simeon Carter, who three years later formed his own firm, Carter, Ford & Company Limited, manufacturers of wrought-iron bridges, girders, roofing, railway ironwork, and cab axles etc.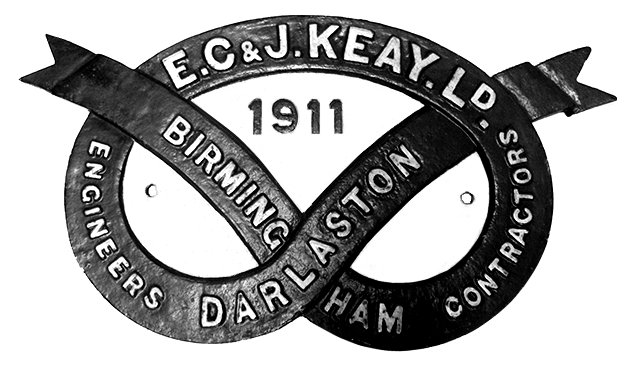 A Keay builders plate.
The company opened James Bridge Ironworks on the site, but only had a relatively short life, going into liquidation in September 1886.

In December of that year, the company's property and assets were put up for sale, and in January 1887 were acquired by the Keay brothers. In June 1888 they purchased an adjacent three acres of land from Martha Mills and James Slater, along with a strip of land on the opposite side of Heath Road.


An advert from 1963.

Keays produced the steelwork for this one hundred feet clear span warehouse.
In 1887 Keays moved to "Bridge Yard", as they called the James Bridge site, and produced many products over the years, specialising in structural steelwork for all types of buildings, such as schools, hospitals, factories, offices, and warehouses.

Bridge Yard site had three large open shops, and good access to the railway, nearby ironworks and rolling mills.
E. C. & J. Keay was incorporated in 1893, and listed in the 1896/1897 Peck's Trades Directory of Birmingham as makers of steam boilers. By 1898 the business had moved to James Bridge, and within twelve months the firm had added an iron foundry to the site for the production of bearings and cast ironwork.

The firm provided the steelwork for Birmingham Snow Hill railway station, which consisted of 6,000 tons of steel, transported to the site on the firm's Pollen railway girder wagons. Keays also supplied 1,000 tons of steelwork for Leicester railway station, the cast iron pillars used in Kensington High Street Underground Station, and the steelwork for Neachells No.1 and No.2 power stations, the latter using 8,000 tons of steel.

Other contracts included the Great Western Hotel at Paddington, many bridges, hoppers, bunkers, riveted platework, welded fabrications, railway signalling equipment, and the fencing and gates for Willenhall Memorial Park. Keays also built Norfolk Bridge at Shoreham-by-Sea in 1923. In 1935 the firm became a Private company.

In 1957 Keays became a subsidiary of N. Hingley and Sons, Limited, and in November 1960, part of F. H. Lloyds, when the firm took over the Hingley Group. Sadly they were another victim of the recession of the 1980s. The F. H. Lloyd group collapsed in 1982.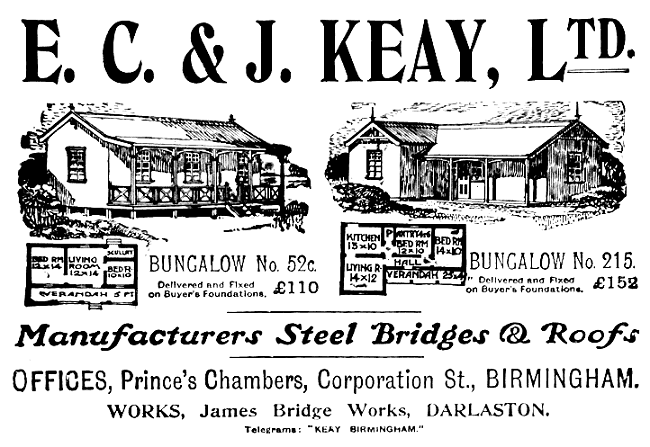 An advert from 1912.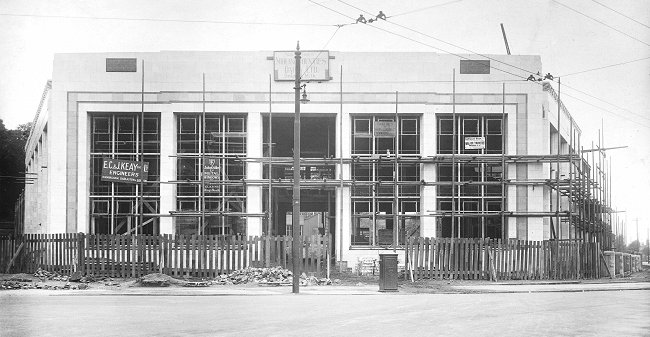 Keays provided the structural steelwork for the Midland Counties Dairy on the corner of Lea Road, Wolverhampton. Built in 1930/31.
W. Martin Winn Limited

W. Martin Winn Ltd. opened their factory at Heath Road in 1907. It was a family business that started by making wrought iron nuts and bolts. They quickly realised the advantages of steel and produced some of the first steel nuts and bolts in Darlaston. The business quickly grew and many of the company's products were produced from bright drawn steel. Between 1920 and 1930 the cold heading process was introduced which led to the production of high tensile steel bolts. Heat treatment was later introduced for the production of high tensile carbon steel bolts, and alloy steel bolts. They also produced extra large bolts weighing two or three hundredweights each.
In the 1950s the firm began to produce bolts and studs that were suitable for high temperature installations. Large numbers of them were sold to oil refineries, and to manufacturers of steam raising equipment. In later years the company benefitted from the decision to introduce a unified thread to make British and American screws interchangeable. Large numbers of the firm's unified nuts and bolts were produced. The factory closed during the recession in the 1970s, but a small tool making business called Winn Tools remained in the original office building until a few years ago. Winn Tools was founded in 1964, and survived until June 2009.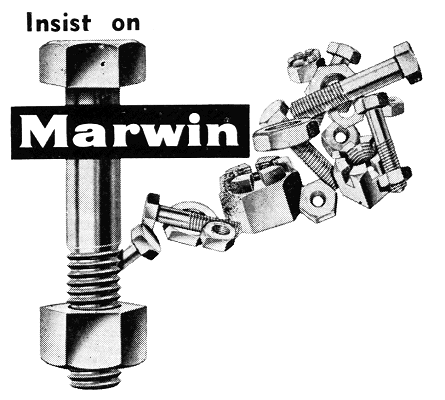 | | | |
| --- | --- | --- |
| An advert from 1946. | | An advert from 1909. |
Samuel Platt Limited was based at Kings Hill Foundry, and produced a wide range of products including machinery for tube making, nut and bolt making, drop hammers, and stripping presses, reeling and straightening machines, stamping machines, and drop hammers.

Other products included lathe chucks, pulleys, mill gearing, shafting, shaft fittings, and pressings.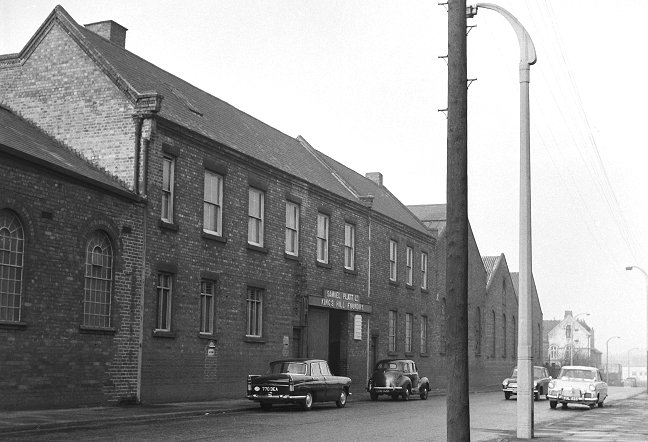 Samuel Platt Limited, King's Hill Foundry. From the collection of the late Howard Madeley.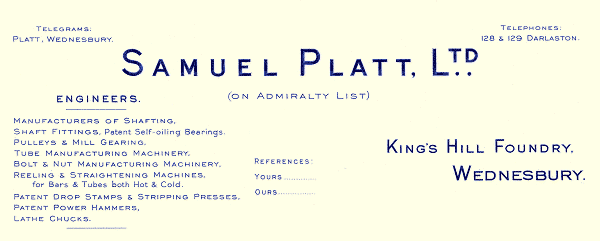 Wilkes Limited

The business was founded in 1840, and in 1897 took over Wilkes' bolt, nut, and fencing manufacturing business. In 1890 it became a limited company, and by 1914 employed 350 people.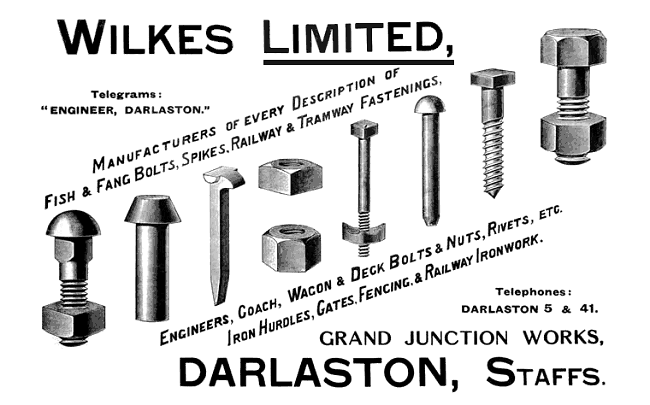 The old Darlaston Nut and Bolt works, known locally as "Bogie Wilkes".

The factory stood on the corner of Cemetery Road and Kendricks Road.
| | |
| --- | --- |
| A view of the rear of Darlaston Nuts and Bolts. The factory was demolished in 2006. | |
A view of Darlaston Nuts and Bolts from the railway bridge in Kendricks Road.

The factory, originally called the Grand Junction Works was named after the railway (originally the Grand Junction Railway) and located there because of it.
| | | |
| --- | --- | --- |
| An advert from 1902 | | An advert from 1921. |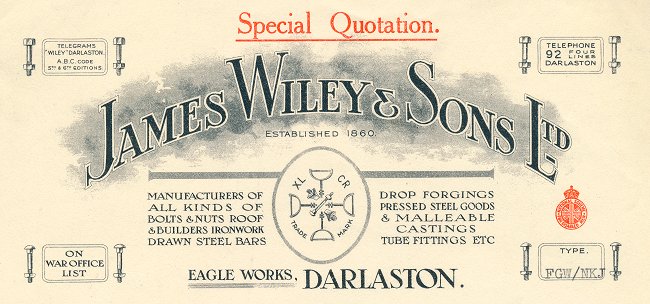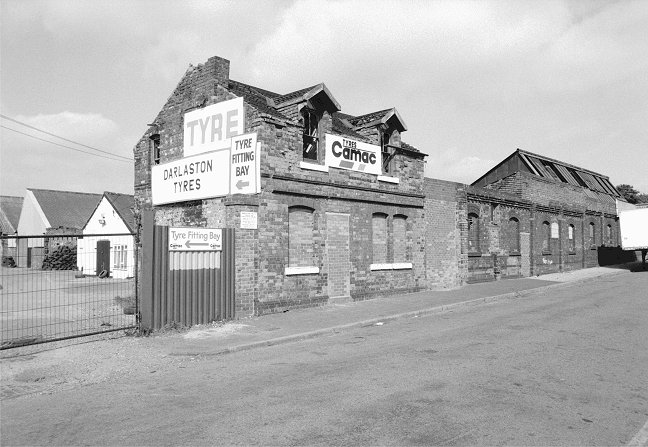 Some of the last buildings from the Grand Junction Works in Cemetery Road. They were demolished in the late 1990s.

An advert from 1884.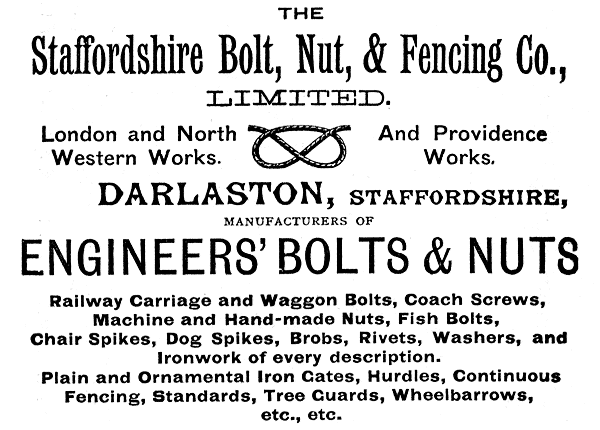 The Staffordshire Bolt, Nut, and Fencing Company's factory, London and North Western Works, stood near Bentley Road South, in between the Walsall Canal and the London & North Western Railway. It was connected to the railway by a siding which also served the nearby canal interchange goods station. The importance of the railway to the company can be seen from the name given to the works. This advert is from 1884.

Partridge & Company

Sometime before 1850, Simeon Partridge, a grocer, began to make tallow candles for sale in his shop at 28 Pinfold Street, which he produced in a small backyard workshop. He soon opened a small factory behind Slater & Company (solicitors) in Walsall Road, not far from the Bull Stake. Unfortunately the building burned down in 1900 and manufacturing ceased. His son Alfred soon opened another factory on the southern side of Heath Road next to several old flooded mine shafts, one of which supplied the works with water. Products included tallow candles, yellow and carbolic soap.

The candles were made by repeatedly dipping candle wicks, suspended from a frame, into molten tallow, until the required thickness was obtained. After each dipping the tallow was allowed to cool. One ton of tallow made around 25,000 candles, and in a record year in the 1930s the company made 4,000 tons of candles of various kinds.

In 1910 Gilbert Partridge took over at the works which were sold to ESSO Limited in 1957. Within a few years the factory closed.


An advert from 1963.

Comrade Cycles

Simeon Taylor had a shop at 76 Pinfold Street, where he sold sports goods, and repaired bicycles at the back. He suffered from hearing difficulties and so his wife helped in the business.

The Taylor family lived upstairs above the shop and had several children. Simeon built a workshop and started to assemble bicycles.

Sometime later Simeon purchased an old nut and bolt factory on The Leys, in between Alma Street and Stafford Road, in which to manufacture bicycles and tricycles. The factory was previously occupied by David Harper & Sons

It became a family business. Simeon's daughter Florence, sons Jack and Richard, grandsons John and Philip, and granddaughter Lynda also worked at the factory.

They became well known for their high standard of craftsmanship.
Simeon died in 1960 after a long illness. By this time half of the company's products were exported, and many competitors had ceased to trade because of cheap foreign competition. Comrade went on to become the largest independent cycle manufacturer in the country. The company was hit by the recession in the late 1970s and 1980s, and moved to new premises near the Bull Stake.

Unfortunately it all came to an end in 1987 because of the continuing recession, and the large number of cheap foreign imports that flooded the market.
---